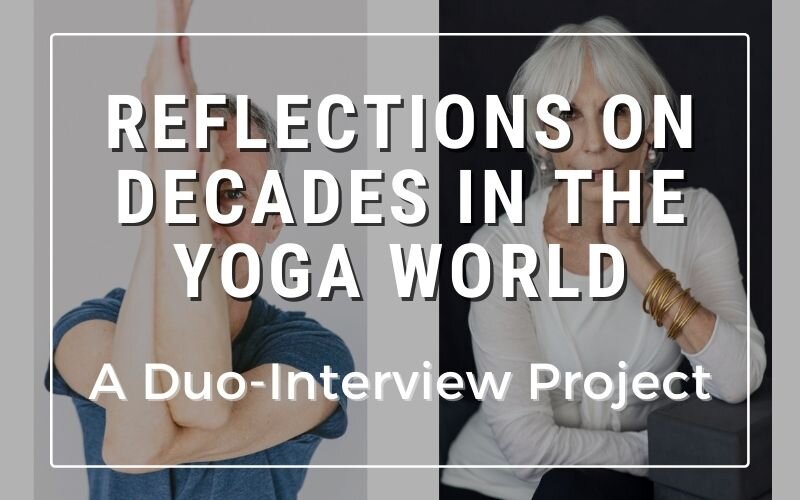 I have tried many different movement exercises and practices: dancing, tai chi, gym workouts, and more. But I have never been so consistent or faithful to any system other than yoga.
JOE:
I have. I started practicing yoga on the Y, where I had been lifting weights, so I got into yoga from strength training and not the other way around. When I started practicing yoga more consistently, I gave up strength training for a while, but returned to it a dozen years ago.
I now do a lot of varied practices such as yoga, strength training, calisthenics and Feldenkrais.
QUESTION 3: How do you feel about a typical yoga practice and has it changed over time?
DIANA:
My yoga practice has evolved over the years, mostly due to injuries rather than age-related issues. (To be clear: the injuries were not the result of my yoga practice!)
When I started practicing on my own, my practice was pretty strict. My teacher Dona Holleman followed a daily Iyengar practice in which the daily morning practice was devoted to a different group of asanas. The afternoon practices consisted of long head stops and shoulder variations (up to 20 minutes or more of both!).
Today I practice a mixture of yoga based on Iyengar and a flow that comes from my own energy body. There are days when I need a lot of movement and days when I go slower. I never do yoga very fast and I never did. I really enjoy exploring and inhabiting asanas.
JOE:
My practice has changed quite a bit. When I started yoga, it was mostly a recovery practice. It was a way to relax and work on my flexibility after training with weights. When I discovered vinyasa and Ashtanga, I fell in love with the vigor of those practices and stopped doing any other physical activity for many years.
Eventually, I discovered that a mono-yoga diet was not the best for my body. At the time, I was practicing with Glenn Black, and one of the things Glenn highlighted was that to have a sustainable practice you can't just do asana. He carried kettlebells and medicine balls to his workshops and taught what he called "human movement."
I started strength training again and started incorporating other types of movement into my routine. This led to the discovery of the Feldenkrais method, which further expanded my repertoire of movements and deepened my understanding of how we move.
Over the years, my practice has had its ups and downs. I have had injuries and illnesses. I went through periods when I was busy and didn't have much time to practice, and other times when I could devote hours to the day. Throughout life, things change. I have learned that I need to be flexible in my expectations for my practice.
QUESTION 4: What year did you start teaching yoga and with whom did you do your YTT? Were there other influences on your teaching style (specific to yoga or others)?
DIANA:
I took my first YTT in the early 80's and to the Sivananda ashram in New York State. I had been living outside the United States for many years and my teacher asked me to take her classes when she went to Pune, India. To do that, I needed a certificate, so I went home to New York and did my first training there. (To be perfectly honest, I enjoyed my time at the Sivananda ashram, but my yoga style didn't suit me.)
My most intense training was with Dona Holleman in Italy over several years. (Dona Holleman is a senior yoga teacher and one of the first women to study with BKS Iyengar in the 1960's.)
I have also studied with many other teachers over the years. The ones that struck me most about Women were Shandor Remete, Genny Kapuler, and Carrie Owerko. Carrie has been my head teacher and mentor for the past 10 years.
As a side note, I personally think a 200 TT is very little time to be qualified as a teacher. I think the workouts are great and encourage people to go deeper into their yoga practice and education. But being a teacher after 200 hours is presumptuous and sometimes dangerous.
#duet #interview #project #Jenni #Rawlings #Yoga #movement

Sometimes we include links to online retail stores. If you click on one and make a purchase we may receive a small commission.

Source link